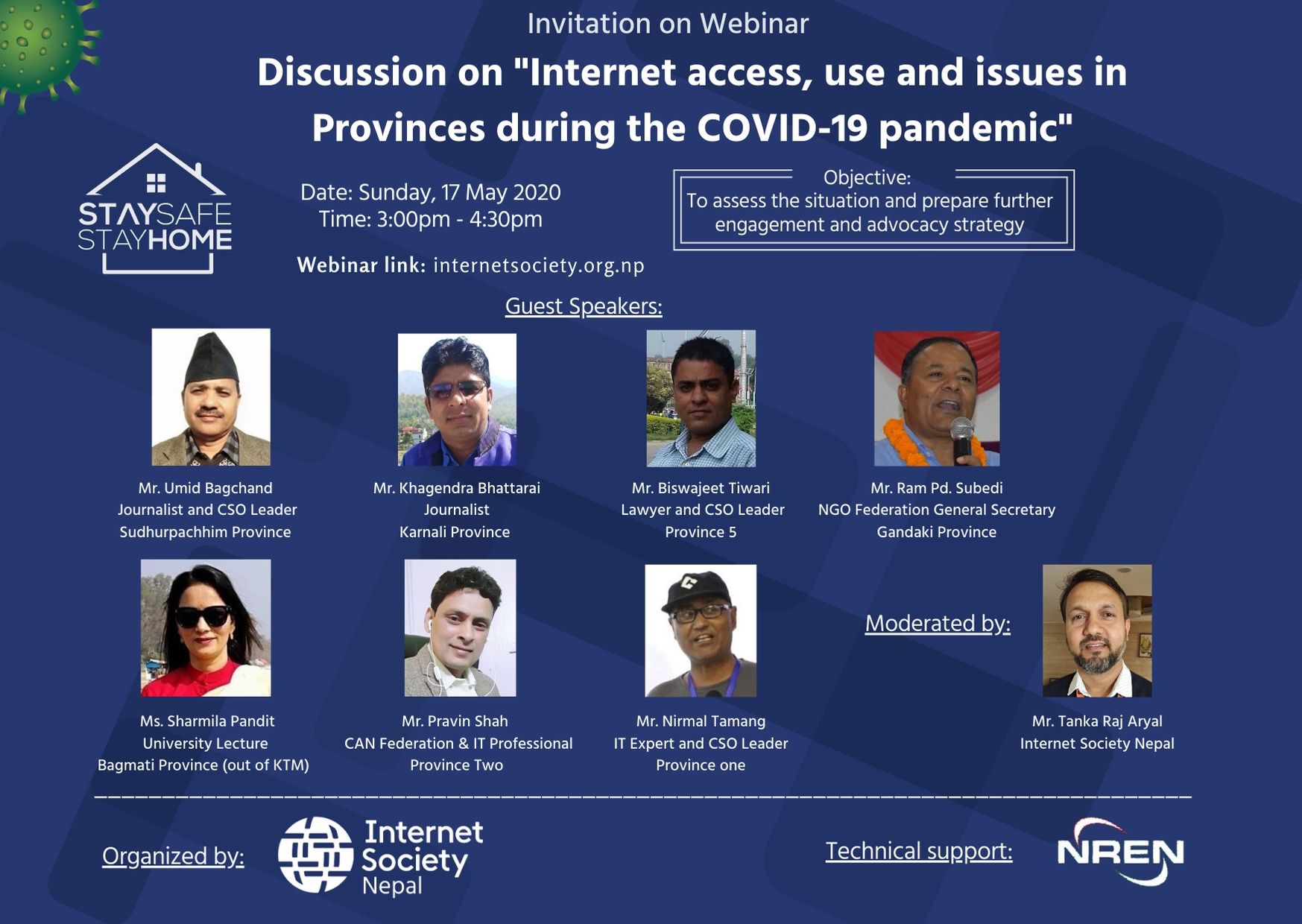 Discussion on "Internet access, use and issues in Provinces during the COVID-19 pandemic"
Date: Sunday, 17 May 2020
Time: 3:00pm – 4:30pm
Internet access, use and issues: Situation in provinces during the COVID19
Internet Society Nepal organized a discussion on "internet access, use and issues in provinces during the Covid19 pandemic" among the wider stakeholders representing seven provinces of Nepal. The event was organized on May 17, 2020 as part of the engagement and advocacy strategy of the Internet Society Nepal with the objective of assessing the situation in the provincial level. . More than 50 participants from seven provinces, representing various organizations and sectors, attended the event.
During the event, Acting Chair of ISOC Nepal Mr. Rom Kant Pandey briefed the participants about ISOC Nepal, major activities and the objective of the event. He further shared about the series of learning, sharing and discussion events organized by the ISOC Nepal while responding to COVID19.
Mr. Tanka Aryal, Advocate and Treasure of ISOC Nepal, moderated the discussion. He explained =how internet has become as a lifeline for everyone and how it enables individuals to enjoy wide range of rights. Internet has become an essential means for enjoy rights on information, expression, assembly, education, employment, and many more; and considering its important UN has acknowledged internet is a fundamental human right, he added.
CSO leaders, legal professionals, academicians, journalists and IT professionals from all the provinces shared their experience relating to internet access, use and issues in their respective provinces. Mr. Umid Bagchand,  journalist and CSO leader, from Sudurpachhim Province said that the access to internet is urban-centered and many people are still out of internet access. Rural people have access to internet through mobile data only and the quality is very poor, he added. Biswajeet Tiwari, lawyer and CSO leader, from Province 5 said that internet enabled citizens to get information on their fingertips so it should be declared a basic right in Nepal too. Internet has also helped to fight against Covid19 however even hospitals and health posts and other public institutions in the province do not have internet connection.
Mr. Khagendra Bhattarai, a leading journalist, from Karnali Province shared that  the infrastructure for internet and telephone service in the province is weak thus people are being deprived of the different opportunities. He further said that even in the province headquarter, Surkhet, the quality of internet is poor, but the cost is high. From Gandaki Province, Mr. Ram Prasad Subedi, NGO Federation General Secretary, shared about the growing spread of misinformation/fake news amidst COVID19. He further highlighted with examples that there is a need of building capacity of all stakeholders including internet users. He also raised concerns about quality, service and price of the internet in the different districts of Gandaki Province.
Representing Bagmati Province, Ms. Sharmila Pandit, a University lecturer from Chitwan, shared that access to technology/equipment is a huge challenge for many people thus online education may increase gap between haves/have not. It has increased economic burden for parents. Along with the access to internet and gadgets, there is a need to build and increase capacity of educators and students to make online education useful, Ms. Pandit highlighted. Mr. Pravin Shah, member of CAN Federation, shared that the more number of COVID19 cases have  increased  in the province 2, the more people has realized the importance of the internet. He further added that government should take necessary policies facilitating rural and poor people to access internet. He stressed the role provincial and local governments to make internet accessible technologically and economically in Province 2.
Mr. Nirmal Tamang, IT Expert and CSO leader, from Province 1 expressed that the use of internet has been increased, and internet is no longer a luxury but has turned into a basic need, that enables people to function in their daily life. He shared that the use of internet has increased in education/online classes in Province 1 but many schools are yet to adopt software and tools necessary for such classes. He also shared about that the infrastructure and necessary qualified human resource has increased in Province 1 along with increase in the number and quality of IT related academic institutions. Giving example of public internet services in Biratnagar Municipality Mr. Tamang highlighted about the ways local government can play role for making internet accessible to the people.
Mr. Suresh Bidari, journalist, from Birgunj who was found COVID19 infected by also shared his experience in the program from isolation ward of the hospital. He shared how internet has become a lifeline to seek, receive and impart information for the journalism during COVID19; and suggested proper use of internet such as online press meet by hospitals and authorities so that it can create safer environment for journalists and those doctors and authorities. Similarly, Mohasin Ali from Gorkha shared about   the use of internet to share information, to coordinate among the stakeholders and to promote interaction by him during COVID19 . Mr. Ali shared that he has been using Facebook live to run the daily show . Similarly, participants Mr. Ajay Shah, Mr. Bashanta Banjade, Ms. Bina Silwal and many other shared about the increase in the price of the internet decrease in the quality, poor services from the internet service providers etc. Additionally, role of ISPs, governments, and CSOs was also discussed during the event. It was widely agreed that the use of the internet has increased recently for information, employment, education and entertainment due to the COVID19; but the quality of service has rather decreased and the prices have gone up, widening the gap between demand and supply.
Mr. Amar Rajbhandari, General Secretary of ISOC Nepal, concluded the discussion session with vote of thank. He said that the issues and concerns discussed during the event will be key way-forward for ISOC Nepal for further advocacy and engagement with stakeholders. Technical support for the event was provided by Nepal Research and Education Network (NREN).